Terrazzo tiles are composed of 100% raw materials. On the contrary, in ECO TILES the substitution of raw materials with waste allows to account for up to 77% of the entire tile content.
The ECO TILES are engineered in 3 different typologies:
the

standard

tile is similar to a traditional tile but containing up to 77% of waste material;

the

extra-ware

tile aims to valorize the technical performance of the product by using waste components with different hardness;

the

design

tile is customizable in a wide range of colors and patterns.
Demo production and testing of ECO TILES demonstrated to maintaining and potentially improving mechanical and structural characteristics compared to the traditional products made with raw materials.
ECO TILES are produced in two different versions:
SINGLE LAYER tiles are made of only one decorated layer, polished on the surface, composed of recycled glass fragments, cement, pigment and glass powder. The Single Layer is thinner, lighter and it is more suitable for the preparation of the 'design' tiles.
DOUBLE LAYER tiles add to the bottom of the polished decorated layer a second one composed of cement and 75% of crushed CDW. Double Layer tiles are heavier and sturdier, a perfect fit for the 'extra-ware' type.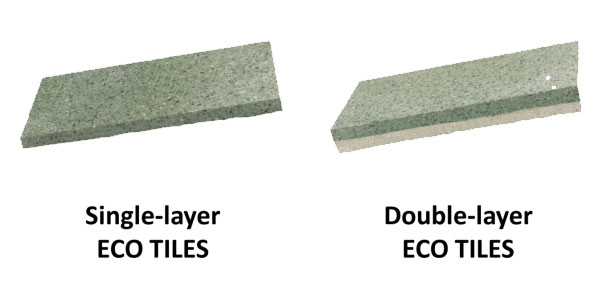 The overall objective of the Life Cycle Assessment (LCA) study was to assess the environmental benefits of the ECO TILES project in terms of: recycle of waste, saving of natural resources, reduction of energy consumption and Global Warming Potential (GWP). The LCA shows how the substitution of raw materials with recycled glass and CDW for the production of ECO TILES reduces the impact on the environment, in terms of GWP, of about 19% for Mono-Layer tiles and about 11% for the Double-Layer tiles compared to a traditional Terrazzo tile.